Strings' News 2021 2022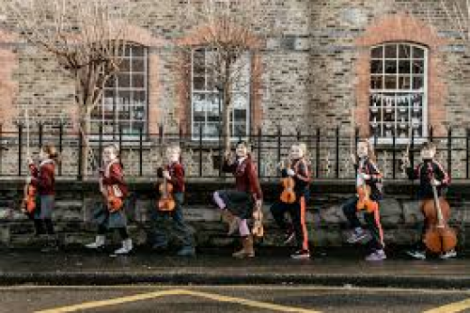 We are delighted to announce that our strings'/musical programme will now restart in the school on the 14th of February. Every Monday, pupils from 2nd-6th classes received a weekly music lesson with Ciara. Unfortunately, they are not using violins yet but hopefully, we will be able to reintroduce them soon. Our Junior infants-1st classes will receive their lessons on Tuesdays-starting on the 15th of February.
In other strings' news, we are looking to restart our orchestra lessons but online (via zoom). Ciara will be in touch with our orchestra players very soon. Once our primary orchestra has been established (hopefully when restrictions are lifted) we will look to restart our secondary school orchestra once again.
Musical piece of the month
Music News 2020/2021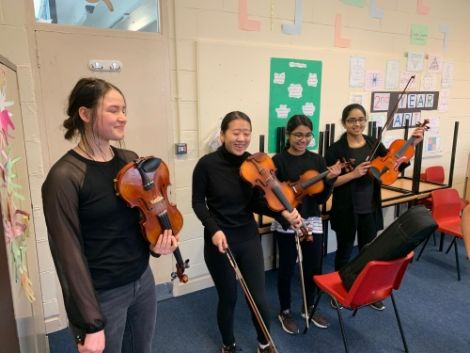 A lovely image of our secondary school chamber orchestra before they perform on the stage of the Wesley Feis
2020 - Music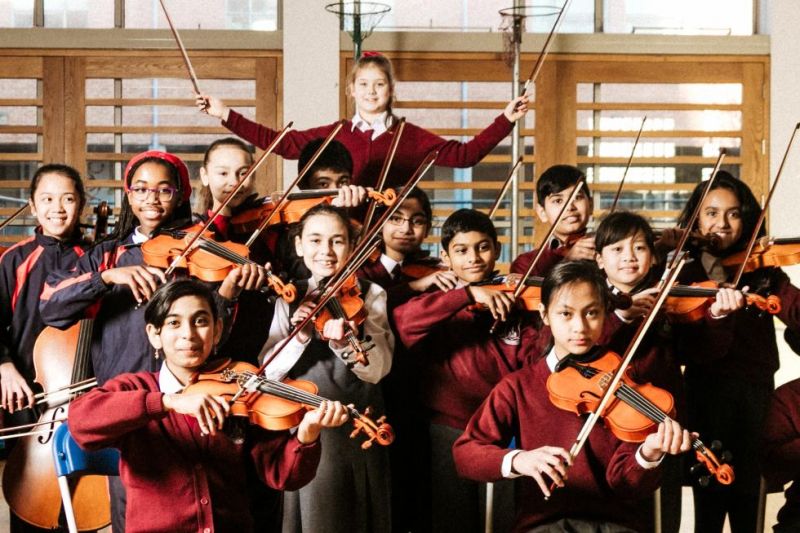 We are designating 2020 the year of Music, culture and the Arts. We have a huge variety of programmes planned.
In January alone, we have engaged the services of The Mobile Music School to conduct 10 week lessons with 6 of our classes, The 'Moon and Sixpence' theatre company visited the school on the 9th and our 4th, 5th and 6th class pupils took part in confidence building/public speaking seminars on the 8th.
Our newly formed chamber choir took part in the Laudate Festival at the end of January as part of Catholic Schools' Week.
Our school orchestra kicked off the 2020 season with their annual benefit concert in St. Peter's Church on the 29th of February with our secondary school chamber orchestra and the Offbeat Ensemble. They will also take part in collaborations with other schools and will travel outside of Dublin for the first time this year.
To cap off term 2, we have drafted a script for a whole school musical but this has been put on hold in light of the recent mandatory school closures.
The culmination of our year of Music and the Arts will be marked with a Gala Concert in St. Peter's Church on the 21st of November to mark 10 years of the strings' project in our school.

More details of different programmes will follow shortly-busy times ahead!!!!
Unfortunately, we have had to pause all of our musical initiatives until further notice in light of Covid-19 restrictions. Hopefully, a lot of the events planned for 2020 can be carried out over the course of 2021.
St. Peter's National School, Phibsboro, Dublin 7 | Phone: 01 8680501