Parents' guides- Class Dojo
Parents' guide to Class Dojo- Junior Infants- 3rd class
ClassDojo
ClassDojo will be used over the coming weeks/months (Junior Infants-3rd classes) to communicate homework/assignments/digital learning activities.


Parents can monitor your child's work from the parent account.

It will enable the teachers to assign more varied homework and allow the boys and girls to upload their work if needed.

The platform will be also be used should the school be partially or fully shut down as a result of Covid-19.

If you have any problem logging in, please contact your class teacher at their dedicated email address.


Parents' guide to Microsoft Teams- 4th- 6th classes
Guidance on Microsoft Teams for parents and pupils
Guide to using Microsoft Teams on mobile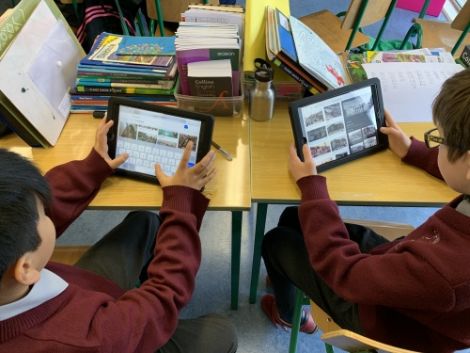 4th-6th class pupils can now access 'Microsoft Teams'. Teams is an online platform that is secure and private for our pupils to communicate within their class/ with their teacher. Pupils access it using their dedicated school email address
Pupils can access Teams either through the Microsoft Teams app (free) on an iPad/device or by accessing it through Google Chrome browser. (Please note that Internet Explorer will not support Teams).
To find out how to upload Assignments from a mobile device, please click on this link below to watch a tutorial.
Digital Learning Plan 2020
St. Peter's and online platforms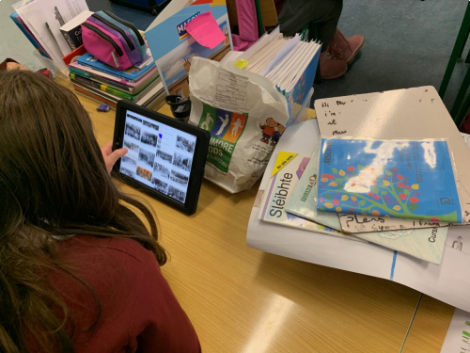 St. Peter's is delighted to announce that we will be rolling out two online platforms from the 27th of April, 2020. Students and teachers from Junior Infants-3rd will engage with Class Dojo and 4th-6th class students will make use of Microsoft Teams. These two online programmes will help enhance the communication between the school and home with students and teachers able to share images, written work, videos, audio clips and drawings. Teachers can assess and provide feedback to the students on their learning. Of course, in these unprecedented times, it will allow our students to connect with each other (4th and 6th classes) and the Junior Infants-3rd class students to connect with their teachers.
Please see video tutorials in link attached to ICT and Digital learning for both Microsoft Teams and Class Dojo. We are very excited about this new adventure into the world of online learning and we hope that the skills we develop over the next few weeks, months and years will stand to us in the near future.
ICT and Digital Learning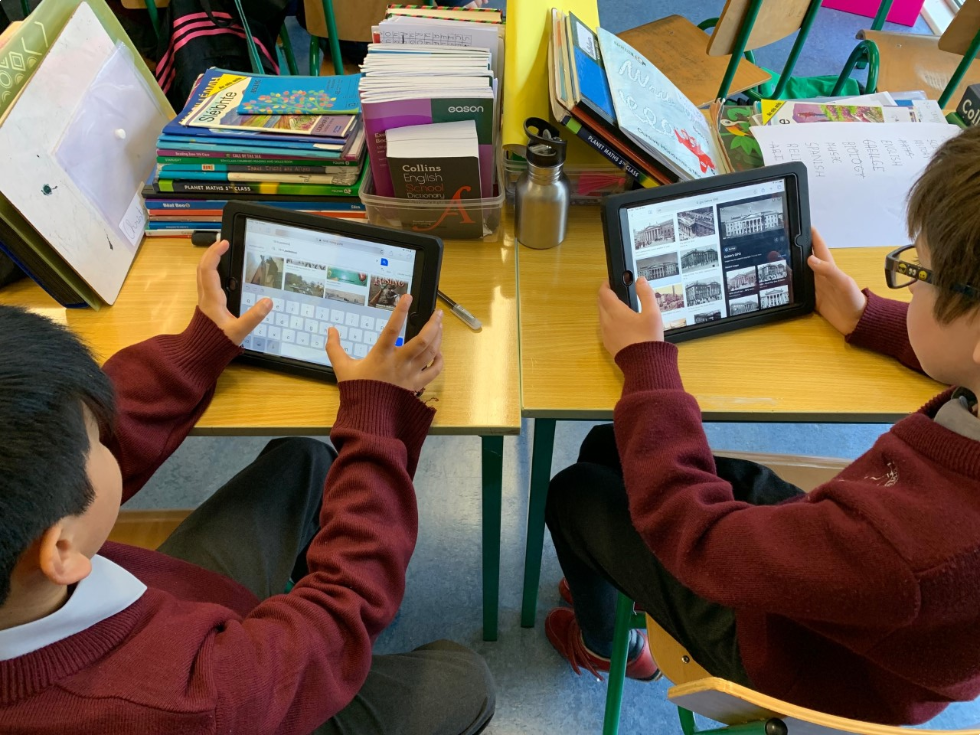 As educators, we are all aware of the important role that technology plays and will continue to play in your child's educational development. Our school is extremely well stocked when it comes to IT provision. Almost all of our classrooms have either touch-screen interactive or interactive whiteboards. The remaining classrooms have projectors and mimio panels (which will be upgraded to interactive boards within the next few months). All classrooms have visualisers and the pupils also have access to two trolleys of laptop computers. Our class teachers will all receive top of the range upgraded Dell Vostro laptops in September. The government are placing an emphasis on implementing digital learning into the primary school curriculum. If you click on the link below, you can access the digital learning strategy/framework. https://www.pdsttechnologyineducation.ie/en/Planning/Digital-Learning-Framework/
As a result, the school recently purchased 40 brand new I-pads from Wriggle Learning to add to the 20 devices we already have. Over the past month, our pupils have been given the opportunity to explore these new devices and even come up with suggestions for new apps. In fact, if you check Mr. McConigely's Junior Infant class page, you will see our pupils fully engaged in learning and revising their phonics (see link https://www.phonicsbloom.com/)
Wriggle will provide staff training from September. We will also be working in partnership with Cocoon IT during term 1 of the new school year. Cocoon provide staff and pupils learning in use of Ipads and how to embed technology into the curriculum. We are really looking forward to promoting IT from the start of September 2019.
Another initiative introduced into the school in recent times are Beebots (click on underlined link for more information). Beebots are robotic toys than can be controlled using various commands on the device or can be controlled via Bluetooth on an Ipad or laptop. Beebots are used to teach basic coding, promote oral language skills and also enhance Geographical and Mathematical skills.
The school has purchased two sets of Beebots (one for the junior school and on set for the senior school) and they will be distributed to classes in June.
Cocoon are conducting 6 weekly IT sessions with each class over the course of the year. We have also recently updated our Digital Learning Plan, our AUP (Acceptable Use Policy) policy and IT plan.
St. Peter's National School, Phibsboro, Dublin 7 | Phone: 01 8680501