Admissions' 2023/2024 and 2024 2025 information for parents/guardians
See policies section for Admissions' policy and Admissions' notice for 2024/2025
If you wish to enrol your child for the 2023/2024 school year or any subsequent year (admissions for the 2024/2025 school year will be be processed from the 2nd of October 2023) please fill in the enrolment form (found in the parents' section of the website). The 2024/2025 enrolment form will be uploaded onto the website in advance of the 2nd of October 2023. Please note we are still currently accepting applications for the 2023/2024 school year for students going into junior infants and from senior infants and older. The enrolment window for Junior Infants (2024/2025) will open on the 2nd of October 2023 and close on the 22nd of December 2023 Late applicants will be placed on a waiting list. (as per Admissions Bill 2018).
Applications for the 2024/2025 school year (from senior infants up to 6th classes) will also be accepted from the 2nd of October 2023 until the 22nd of December 2023. Please refer to the school's Admissions' Policy and Admissions' Notice on the home page of our website (policies section) for more details.
Please ensure that you have included the following with your application:
1. Fully completed and signed application/enrolment form

2.Birth Certificate (original which we will copy and return to you)
3.Baptismal Certificate (for Catholic children only, for the purposes of sacramental preparation) It is not required for enrolment.
4. Reports from a previous school (if applicable).
5. RECENT UTILITY BILLS- any one of the following [Gas, Electricity, Telephone, Car or Home Insurance Policy, Official Government Documents, Social Insurance Document etc.]
6. Parental/Guardian's photographic ID- a driver's licence or passport.
Once completed, the application form (and accompanying documents scanned) may be submitted by email to office@stpetersns.net, post or in person at the school office.
St. Peter's N.S. reopens for the 2023/24 academic year
Dear parents/guardians,
We've had a wonderful start to the new school year welcoming new and familiar faces alike here in St. Peter's N.S.
A few reminders for parents as we face into our first full week of the new school year.
Please ensure all of your child's

clothes are labelled

with a pen or permanent marker.
Pupils will need to bring in their

own clean hand towel/cloth to dry their hands with.

Please ensure it is cleaned on a regular basis. They may bring in small containers of hand gel/sanitizer if they wish.
Please ensure your child brings a drink to school each day (water preferably- no fizzy drinks please as per our health lunches policy). Classrooms are fitted with filtered water taps which children are welcome to use.
Hot lunches will commence from Monday 4th of September for all pupils.
Homework will start from senior infants to 6th classes on Monday, 4th of September.
We remind parents that office hours are between 9.30am and 2pm should they wish to phone the school or see our school secretary Collette. Thank you.
Out and about in St. Peter's N.S.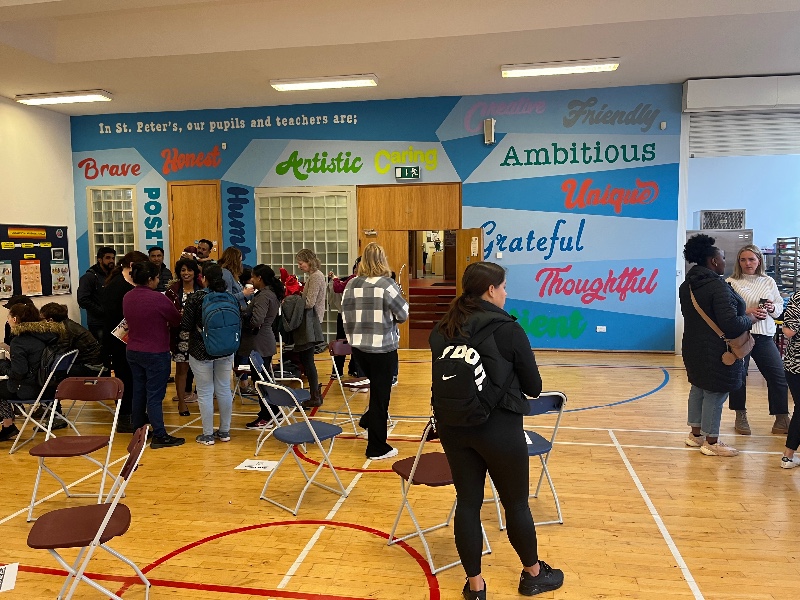 St. Peter's National School, Phibsboro, Dublin 7 | Phone: 01 8680501
Registered Charity Number: 20117924