Daffodil Day
Daffodil Day is a charity very close to our hearts here at St. Peter's N.S and this year we are going to do a small fundraiser to mark Daffodil Day on the 24th of March. We are asking all children to wear something yellow on the day. It can be as simple as a yellow hair band or a badge or they can go full yellow attire, whatever suits you as a family. The children will create beautiful daffodil art work in class so the school will be awash with stunning, colourful daffodils to keep us upbeat and cheerful.

Donations will not be made in school but instead we are asking families to click on our dedicated Daffodil Day donation page and make a small donation. We are very much aware of the cost of living crisis at the moment so please do not feel under pressure to donate.
Out and about in St. Peter's N.S.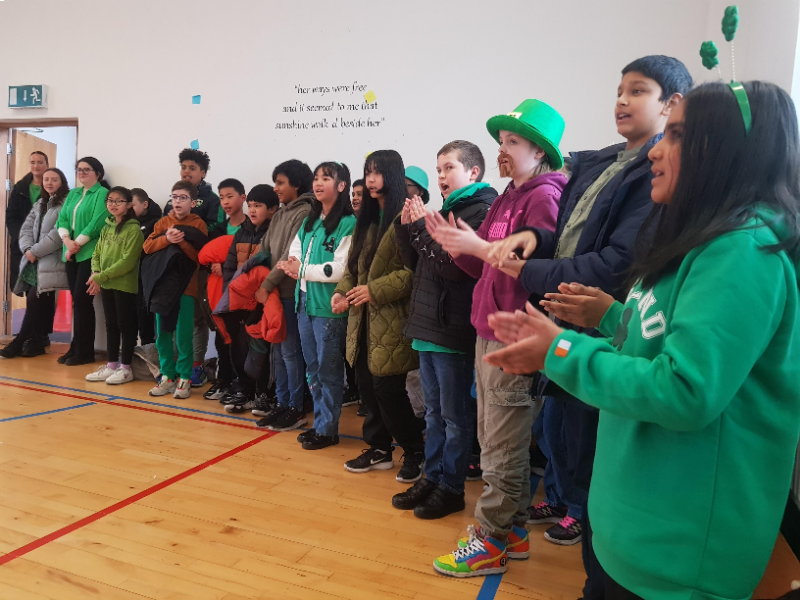 Ceolchoirm- rang 5
Tráth na gCeist
Tráth na gCeist
Ceolchoirm- rang 3
Tráth na gCeist
Tráth na gCeist
Tráth na gCeist
Ceolchoirm- rang 4
Tráth na gCeist
Tráth na gCeist
Ceolchoirm- rang 5
Ceolchoirm- rang 4
Tráth na gCeist
Tráth na gCeist
Admissions' 2023 2024 information for parents/guardians
See policies section
If you wish to enrol your child for the 2023/2024 school year or any subsequent year please fill in the enrolment form (found in the parents' section of the website). Please note we are still currently accepting applications for the 2022/2023 school year for students from senior infants and older. The enrolment window for Junior Infants (2023/2024) will open on the 3rd of October and close on the 21st of December. Late applicants will be placed on a waiting list. (as per Admissions Bill 2018).
Applications for the 2023/2024 school year (from senior infants up to 6th classes) will be accepted from the 3rd of October 2022 and the 21st of December 2022. Please refer to the school's Admissions' Policy and Admissions' Notice on the home page of our website (policies section) for more details.
Please ensure that you have included the following with your application:
1. Fully completed and signed application/enrolment form

2.Birth Certificate (original which we will copy and return to you)
3.Baptismal Certificate (for Catholic children only, for the purposes of sacramental preparation) It is not required for enrolment.
4. Reports from a previous school (if applicable)
5. RECENT UTILITY BILLS- any 2 of the following [Gas, Electricity, Telephone, Car or Home Insurance Policy, Official Government Documents, Social Insurance Document etc.]
Once completed, the application form (and accompanying documents scanned) may be submitted by email to office@stpetersns.net, post or in person at the school office.
St. Peter's National School, Phibsboro, Dublin 7 | Phone: 01 8680501
Registered Charity Number: 20117924