Whole School Strings' Project
Latest strings' news
27th Mar 2023
Our of our accomplished violinists and pianists in Ms. Hughes' 5th class will...
Whole School Strings' Project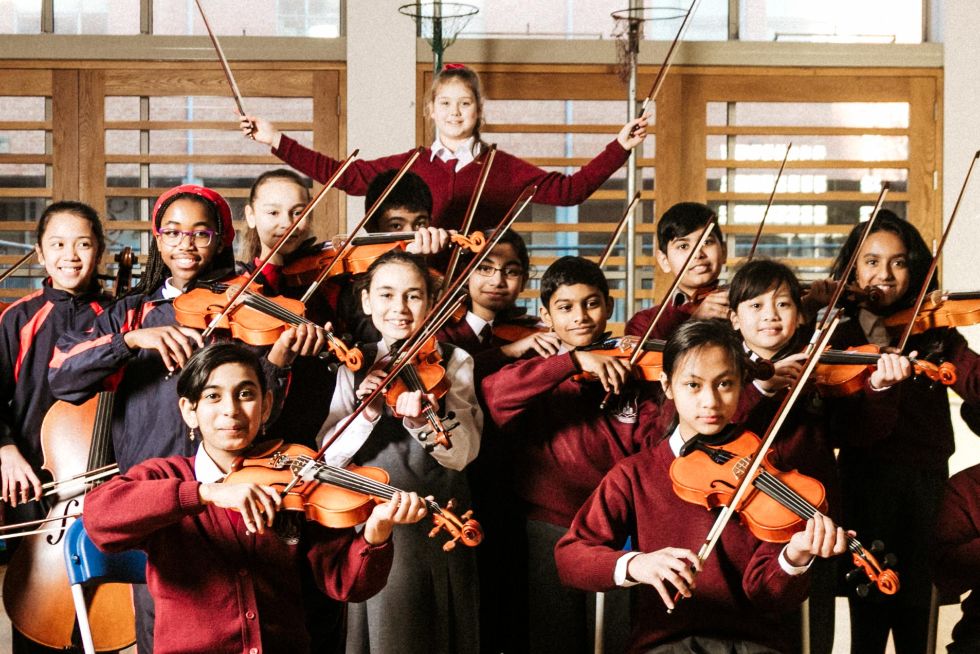 St. Peter's N.S. Violin/Strings' Project-A History (May 2019)
St. Peter's N.S. Violin project was first established in November 2010 when the humble and cramped location of our parents' room catered for both Junior and Senior Infant classes. Ms Siofra Grant (our violin teacher at the time) provided 1/2 hour lessons to each class every Wednesday morning up to lunchtime. As our violin project progressed, we decided to provide our 1st and 2nd classes with violin classes also, therefore, expanding our project to a full day and moving to the hall as a result in January 2011.
The pupils were making great progress and to mark the incredible work completed by pupils and teachers alike, we had our first violin concert after school in June 2011. A number of classes performed various pieces for parents and guardians. It was an extremely proud day for all concerned.
When we returned to school in late August 2011, we were very lucky to have Ciara Cavanagh (a violin teacher in St. Agnes' NS, Crumlin-where the violin/strings programme was first established in Ireland in 2006) on board as part of our strings' project. We started classes in September 2011 (now providing classes to pupils from Junior Infants-3rd classes) and decided to hold our first open day (where parents of pupils came into the school on the last Wednesday in December 2011 before the holidays to view their children in action during violin classes). We had a huge turnout of parents , all of whom were extremely impressed with all of the work accomplished to date.
Our next natural stepping stone was to involve parents in the project and in January 2012, we had our very first parents' violin class. We had a very good turnout of parents with classes taking place after school on Wednesdays.
Our second violin open day took place in June 2012 with both pupils and parents performing during the day and after school respectively.
We returned to school in late August 2012 with our violin classes starting in September. Due to the huge number of pupils now involved (Junior Infants-4th classes) we had to start slightly earlier in the mornings to accommodate all classes. Pupils in 3rd and 4th classes started to read music for the first time this year and our next natural progression was to set up a student orchestra. In mid-November 2012, our dream came to fruition when 30 pupils from 3rd and 4th class sat together in the hall with violins, violas, cellos and a double bass in hand. It was a significant moment in the progression of our project and within four weeks the orchestra took part in the Christmas open day concert on Wednesday 19th December attended by the Lord Mayor of Dublin himself.
Another important development was the provision of violin classes on Monday and Thursday mornings and after school on Mondays and Thursdays provided by Nathan Sherman (our other strings' tutor). There was a huge level of interest in the classes with almost seventy pupils participating in these classes. As well as that, we also have parents' violin classes for beginners, a newly formed pupils' string quartet (taken from the junior orchestra) and pupils in 2nd class were also reading music.
Strings' Project News -June 2013
On Thursday, 6th June 2013 our pupil and parent orchestra had the pleasure of performing in the Mansion House (Lord Mayor's residence). This was our orchestra's first major performance outside of St. Peter's. We really have exceeded our expectations in the three year history of the strings' project. The pupils and parents alike were in awe at the beautiful Oak Room where our performance took place. We invited parents of pupils involved in the orchestra and everybody agreed that our pupils and parents performed out of their skins! Everyone involved in the orchestra as well as Mr. Ryan (string's project co-ordinator) wish to thank the Lord Mayor and staff of the Mansion House, all of our parents, grandparents, relatives and friends who witnessed our wonderful performance. We also wish to thank our dedicated and talented violin tutor, Ms. Ciara Cavanagh. Of course without the efforts of our pupils and parents in our orchestra, events such as these would not have been possible. We look forward to further developments and special occasions in 2013/2014. Michael D. here we come! Áras- expect a visit from St. Peter's soon!!
Violin Project Open Day
On Wednesday, 19th June 2013 we held our fourth open day. Parents were invited into the school throughout the day to view their children in action. There were plenty of smiling faces, plucking strings, up and down bows and even three part string pieces during the course of the day as over 300 parents were amazed at the progress made by the pupils since September. Following the open day, there was a huge turnout of parents for our violin class performance. After our violin class performance there was a recital from our parent and student orchestra which was a repeat of the Mansion House performance on Thursday 6th of June.
Once again, we had a great turnout of teachers, parents, family and friends as well as some very distinguished guests in the hall. Mr. Ryan (our project co-ordinator) wishes to sincerely thank all of our class teachers who have worked extremely hard over the course of the year in supporting our pupils and helping to inspire our budding musicians. Thanks also to our very supportive parents who have given our string's project their backing throughout. We would like to thank Jim (our caretaker) and Anne (our secretary) for their help and support each week with the project.
To our main sponsors, Glanmore Foods, in particular, Mr. John Mooney and Mr. Vivion Powney whose help is greatly appreciated. Mr. Powney is regularly in touch regarding the progress of our project. Mr. Ryan wishes to thank Mr. James Cavanagh and Ms. Pauline Cavanagh (our violin tutor's parents) for their help and guidance over the course of the past year in particular.
To Sr. Bernadette Sweeney, our inspiration behind the project, who has visited the school to witness our orchestra in full flow and given plenty of good advice, we offer a huge 'Thank you'.
To our principal, Ms. Quinn, the cog in the wheel of our project which keeps it moving and evolving and who is always available to give advice regarding the development of the project, thank you.
To our fantastic tutors, Ms. Ciara Cavanagh and Nathan Sherman who work tirelessly and are so generous with their time and talents to ensure each pupil involved in the project can reach their musical potential. Last but by no means least; Mr. Ryan would like to thank all of our pupils from Junior Infants to 4th class involved in the strings project. They have worked really hard this year and made great progress.
Finally to our parent and student orchestra who have represented St. Peter's in the Mansion House just three weeks ago and performed out of their skins! It's hard to believe that just six months ago the majority of the pupils in our students' orchestra couldn't read music and now they can perform string pieces with five parts. They have brought the standards set at St. Peter's to a new level.
Strings' Project - Latest News
The School Orchestra
The school orchestra and Parents' Orchestra had their Christmas concert last Wednesday 11th of December 2013. They played magnificently in the hall after school while the parents and special guests came to watch. Well done to all involved!
St. Peter's also held the Peter's Proms. performance on Wednesday, 18th of December 2013 (1st-5th classes) and Thursday, 19th of December 2013 (Junior and Senior Infants) in the hall. Our parents, grandparents, families and friends were invited into the school to view our classes in full swing. They were all very impressed with the progress made since last June. Almost four hundred parents, guardians and family members passed through the doors of St. Peter's over the course of the two days (a proud achievement!!).
Our 2nd class pupils have now started to read music and our more senior pupils are reading much more difficult pieces of music such as "The Can-can" by Offenbach, "The William Tell Overture" by Rossini and even "Ode to Joy" by Beethoven. One of our fifth classes can even play full string quartet parts as they have pupils playing violins and violas, cello and double bass.
May/June 2019 News
Our primary school orchestra will be travelling to Howth on the 29th of May to participate in a side-by-side concert with their school orchestra.
On Monday, 10th and Tuesday, 11th of June, we welcomed a huge number of parents as part of our bi-annual strings' project open days. Thanks to Ciara, our pupils and teachers for all the wonderful hard work over the course of the past year.
We have amazing plans in store for our 2020 year of Music and the Arts. Our school orchestra and chamber choir will be centerpieces for this year long celebration.
St. Peter's National School, Phibsboro, Dublin 7 | Phone: 01 8680501
Registered Charity Number: 20117924