After school activities have now finally resumed.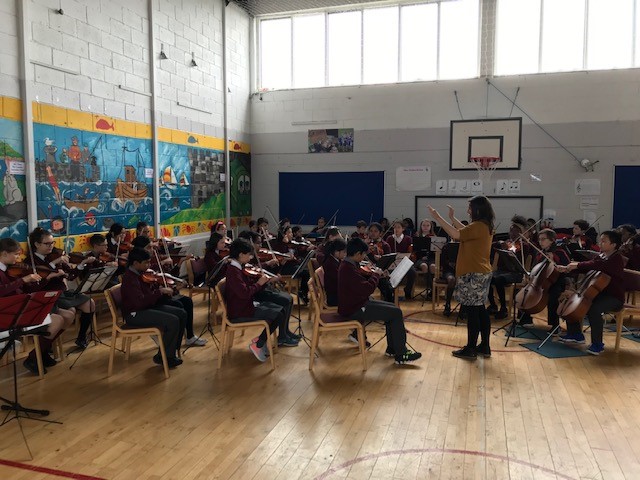 We have a range of after-school activities the pupils can participate in:
After School Athletics (Cross Country and Santry (1st-6th classes), Olympic Handball (junior and senior teams) (3rd-6th classes), Drama lessons (all class levels), School orchestras (3rd-6th classes and our secondary school classical chamber orchestra) and after school strings' lessons (2nd-6th classes).
Since the start of 2018/2019, we have also introduced Science Club (2nd-6th classes), Irish Dancing (junior classes), Art Club (1st and 2nd classes) and chamber choir (4th-6th classes). We are looking to establish a senior basketball team before the end of May 2019 also with a view to playing a first ever friendly game before the end of the year. We have also introduced Spanish classes for 6th class pupils
Ms. Carroll has also introduced a range of in-class curricular activities such as G.A.A. classes (all class levels), Tag Rugby and music workshops with the Mobile Music School (selected classes from 1st-6th class). Our 3rd and 4th class pupils also go swimming with Swim Ireland for 10 week sessions over the course of the year on Thursdays. We have also linked up with Bohemians to engage in a Numeracy through soccer programme with two classes in March 2020
Please see the School Activities menu for more details of the range of curricular and extra-curricular activities taking place in St. Peter's.
For the 2022/2023 school year, we are offering after-school Drama, Art and Craft classes, Lego club, Olympic Handball with choir, school orchestra, a Robolab (Robotics and coding class) and STEM club to be established after the mid- term break.
St. Peter's National School, Phibsboro, Dublin 7 | Phone: 01 8680501