Home School Community Liaison - Ms. Vaughan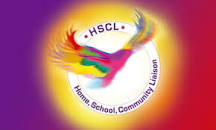 Hi, my name is Marie Claire Vaughan and I am the Home School Community Liaison coordinator here at St. Peter's N.S. Phibsborough. My role is to support and work with parents to strengthen the link between home, school and community as well as encouraging parents to feel part of the school community and an essential partner in the education of their children. My work involves home visits, meeting parents in our parents' room, setting up classes for parents and providing opportunities for parents to feel greater involvement in our school community.
Please feel free to contact me on: 089 4259216 or Mvaughan@stpetersns.net
Goals of the HSCL Programme:
To maximise active participation of the children in the school in the learning process.
To promote active co-operation between home, school and relevant community agencies in promoting the educational interests of the children.
Locally based activities are organised by the HSCL coordinator which set out to encourage greater contact between parents, teachers and with local voluntary groups. Activities in our school include

• Home Visits – The HSCL coordinator visits parents in their own homes. In the current circumstances, we will be inviting parents to visit our parents' room which can be accessed through the Cabra Park gate of the school. We are set up to ensure social distancing of more than 2m and have an outside door to our new garden area. For the moment I will be phoning our new parents to welcome them to the school instead of calling to homes but am available to meet all parents at a time of their choice.
Courses for parents are run throughout the year on a range of topics: some of these include computers, cookery and crafts. Parents may enrol in these courses by filling out the application forms supplied to their children in school or by calling/texting the above number

.Currently many of these are on hold but keep an eye out for posters in the school or news updates here on our website for any new developments.
Attendance
One of the most important things your child can do to achieve academic success is also one of the most basic: going to school every day. In fact, research has shown that your child's attendance record may be the biggest factor influencing their academic success.
Achievement: Students who attend school regularly are more likely to have greater success in their reading and math than students who don't attend school regularly.
School Community: just by being present at school, your child becomes an important member of our school community, learning valuable social skills, and developing a broader world view.
The Importance of Education: Your commitment to school attendance will also send a message to your child that education is a priority for your family, going to school every day is a critical part of educational success.
Learning at home: Given the situation over the past few months, parents may like some extra information on websites and resources to help support your child's learning.
Free learning websites
https://www.starfall.com/h/ 
https://www.abcya.com/ 
https://www.funbrain.com/ 
https://www.splashlearn.com/ 
https://www.storylineonline.net/ 
https://pbskids.org/ 
https://www.highlightskids.com/ 
https://kids.nationalgeographic.com/ 
https://www.coolmath4kids.com/
http://www.mathgametime.com/ 
https://www.uniteforliteracy.com/ 
http://www.literactive.com/Home/index.asp 
http://www.sciencekids.co.nz/ 
https://www.switchzoo.com/ 
https://www.seussville.com/ 
https://www.turtlediary.com/ 
https://www.e-learningforkids.org/
Supports for parents
NALA (National Adult Literacy Agency)
NALA are providing free over-the-phone tuition for adults. They have tutors on the phone that can help with: 
- Reading, writing and spelling
 - Numbers and basic maths
 – Filling in forms, for example for social welfare benefit 
- Helping kids with schoolwork
 - Understanding health information
 - Understanding financial information, for example applying for mortgage relief
Call them on Freephone 1800 20 20 65, or Text LEARN to 50050 and they will  ring back with more information and set up a session with one of their friendly distance learning tutors. Their phone line is open Monday to Friday 9.30am-5pm and they will reply to all texts within two days.
More supports for parents....
The Early Learning Initiative will be posting videos, links and suggested activities for parents: 
https://twitter.com/ELI_Docklands
https://www.facebook.com/earlylearninginitiative/ 
https://jigsawonline.ie/working-with-young-people 
https://jigsawonline.ie/parents-and-guardians/mental-health-awareness-course/
https://jigsawonline.ie/parents-and-guardians/self-care-for-parents-and-guardians-course/
St. Peter's National School, Phibsboro, Dublin 7 | Phone: 01 8680501
Registered Charity Number: 20117924