Olympic Handball updates
24th Jan 2023
On Tuesday, 24th of January, our U-13 girls, U-13 boys and U-13 mixed teams took...
Olympic Handball in St. Peter's NS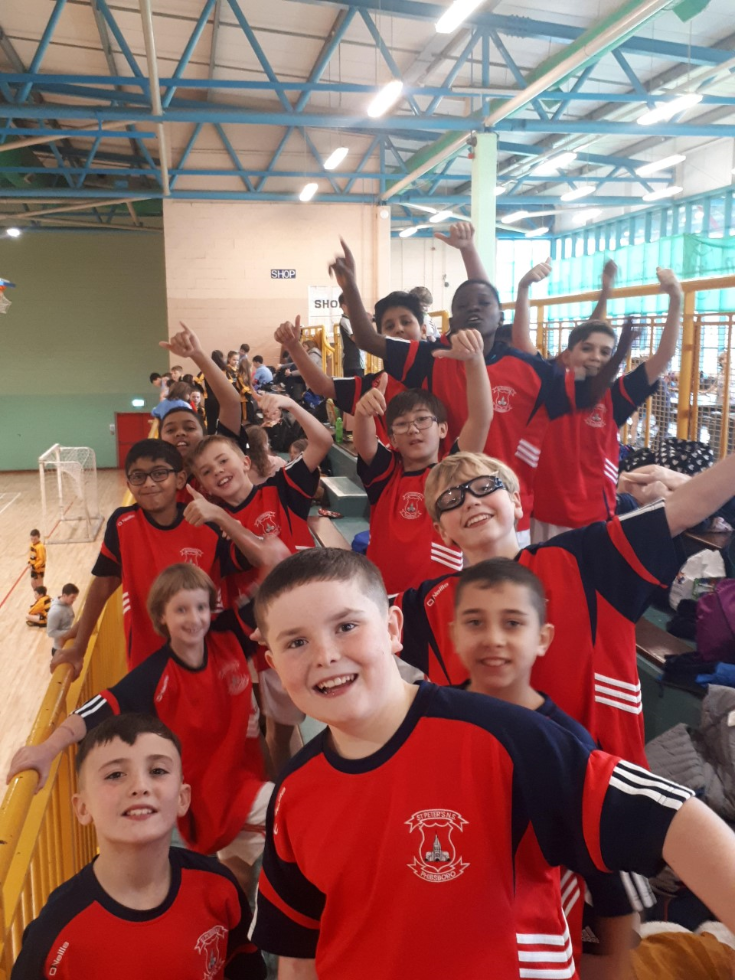 Olympic Handball in St. Peter's: A Brief History
Since the establishment of Olympic Handball boys' and girls' teams in St. Peter's over ten years ago, our school has achieved a good level of success. Our senior boys' team tasted success immediately (under the watchful eye of Mr. Daly) by winning the senior Divison 2 Dublin finals at the very first attempt . This was an incredible achievement considering that the boys had never played the game before. Down through the years, both our boys' and girls' teams have reached Dublin finals with our senior girls' team winning an Olympic Handball festival in Gormanstown, Co Meath in 2011.

Our most memorable success was when our boys' junior (U-11) team won the Dublin finals in 2006 beating a marvellous St. Pius X, Terenure boys' team. After a very tough first half, St. Peter's were trailing 5-0. The half-time team talk was crucial with coach, Mr. Ryan telling the boys to "go out there and play like you have got nothing to lose". The boys really turned things around in the second half (thanks in part to an excellent display in goals by Michael Scully and an overall outstanding team display) and actually managed to keep St. Pius X scoreless while scoring 5 goals themselves-the scoreboard read 5-5 as the full-time whistle approached. Extra-time beckoned. Extra-time was full of tense and nervy moments but our boys managed to score the decisive goal to put us 6-5 in front. We all let out a collective sigh of relief as the referee blew the whistle to signal the end of a thrilling game. St. Peter's were victorious and the boys couldn't contain their delight. It was a truly unforgettable experience for those who had the pleasure of witnessing it that day.

Olympic Handball

The trials for the senior Olympic Handball boys' and girls' teams took place in St. Peter's on Tuesday 24th of September. Pupils from 4th – 6th classes were given an opportunity to impress.
Our Senior boys' and girls' teams are currently preparing for the U-13 Dublin group matches which will take on Thursday, 27th of March in St. Peter's N.S. The senior boys' and girls' teams are training extremely hard at the moment, coming in in the mornings, training during lunch times and training after school. Let's hope all the hard work pays off and both teams do well. Thanks to all of our boys and girls and their two coaches, Mr. Ryan and Ms. Carroll for their hard work and dedication.

On Thursday, 27th of February St. Peter's held the Inter-schools U-13 Handball blitz (Dublin North group matches). There were three schools involved; St. Peter's boys' and girls' U-13 teams, Corduff (Lusk) boys' and girls' U-13 teams and St. Colmcille's (Swords) girls' U-13 team. Our girls' team were first to play against Corduff. After a fairly close opening few minutes, the girls started to pull away and finished up very strongly in the end to record an important win. It was now the boys turn to play against Corduff's U-13. The pressure was on our boys as they knew that a win would see them through to the Dublin finals. They really stepped up to the mark and performed out of their skins to achieve the victory that was required. The girls now knew that a positive result in their second game (against St. Colmcille's) would also boost their chances of a place in the finals. The girls did the school proud and in the end they also gained a place in the finals with a superb win.

Congratulations to the boys' and girls' teams and their coaches on reaching the Dublin Finals for the second year running. The Dublin Finals will take place after the Easter holidays and we all know they will tough. The two teams will have an extra training session in the Aughrim Street Sports' Centre on Friday, 4th of April from 3-4p.m. in preparation for the Dublin Finals. We wish them the best of luck in the finals.

The Dublin U-13 Olympic Handball finals took place on Thursday, 1st of May in Blanchardstown I.T. Both boys' and girls' teams represented the school. The finals were organised into a league format with both boys and girls playing a total of four games. The boys were in competition with St. Olaf's N.S. Dundrum, Harold N.S., St. Mary's, Blessington and Rush N.S. The girls had to play games against St. Olaf's, St Mary's, Corduff N.S. and Rush N.S.
The boys' first game against St. Olaf's was a very close-run affair. The boys were very competitive and in the end narrowly lost. They went from strength to strength after their first match and could have salvaged a draw against the All-Ireland champions, Harold but lost by a single goal. They played very well and won their next match against St. Mary's, Blessington. Their final match was against a Rush N.S. (the eventual Dublin champions). It was a very close match with Rush leading 1-0 at half time. The boys rallied in the second half and were 2-1 down with two minutes to play. Our goalkeeper miraculously saved two penalties to keep us in the match. On the stroke of full time our centre scored the decisive equaliser to earn a 2-2 draw!!!

The girls' team also played four matches narrowly losing three and winning their last game against St. Mary's , Blessington. Overall the boys and girls did the school proud and were presented with medals for their wonderful achievements.

Olympic Handball-2015/2016 and 2016/2017
The boys' and girls' Olympic Handball teams had unprecedented success over the course of the past two seasons. Our two senior teams both reached the Dublin finals in 2016 (to be played on the same day). Our girls narrowly lost out to Corduff in the semi finals and performed very well against Rush in the 3rd/4th place play-off.
Our boys defeated Rush in extra-time to take home the Dublin championship for the first time in ten years. They progressed to the Leinster finals where they were narrowly defeated by St. Paul's from Co. Meath.
As Dublin champions for the 2015/2016 season, the boys knew it would be extremely difficult to retain the trophy two years running. However, having come through a gruelling group stage, tough final group match (that they needed to win), a close semi-final against St. Olaf's they were pitted against old rivals Rush (aiming to win the two in a row). Rush were very motivated and scored a last minute winner to edge out our boys. Our boys were still gearing up for the Leinster finals later in the year.

They would once again face St. Paul's in the Leinster semi-final and it was a very close match until St. Paul's managed to break away and win by a single goal. In the 3rd/4th place play-off-we were up against our old friends......Rush!! Our boys had studied the Rush tactics from the Dublin finals and had done their homework nullifying their main attacking threats while proving clinical in attack to win comfortably in the end.
After two seasons (the most successful for the boys in St. Peter's Handball history), some of our squad had collected one Dublin gold and silver medal and a Leinster silver and bronze medal--a feat that will be difficult to match in the future.

Olympic Handball 2017/2018 and 2018/2019
The boys and girls both reached the Dublin finals in 2018 with the boys also reaching the finals in 2019. With very inexperienced squads the boys' team did extremely well to finish 4th in Dublin overall over the past two years. Congratulations to all the boys and girls involved over the course of the past season. Thanks to their coaches Ms. Carroll and Ms. Casey (2018/2019 coach)

We are currently engaged in our annual in-school Olympic Handball tournament with medals and the overall winner's trophy to be presented at the end of May. Following this, we will look towards next season and undertake trials for our new junior boys' and girls' teams for the 2019/2020 season.
Olympic Handball 2019/2020
For the first time in many years, we have decided to establish junior boys' and girls' handball teams this year. Ms. Carroll and Ms. Casey were busy carrying out trials last June so that the boys and girls could hit the ground running come tournament time in November 2019.
On Tuesday, 19th of November, our boys and girls teams took part in the first round of the Dublin qualifiers in Gormanston, Co. Meath. The girls team played 5 matches, drawing one and narrowly losing the other matches. They started out nervously and took a bit of time to get used to the massive court but they improved game on game and are now looking forward to the next round in January 2020.
The boys played six matches in total facing many new schools for the first time. They lost their first match narrowly to St. Damien's A. Following a nervy start, they picked up three impressive wins in a row ( against St. Vincent's A, St. Vincent's B and Kildare ETNS) before losing by a single goal to old foes, St. Attracta's. They finished their schedule with another victory against St. Damien's B. They also look forward to the final round of matches in January 2020.