Maths for Fun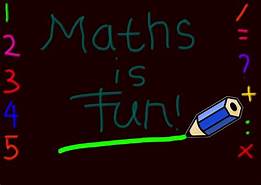 'Maths for Fun' is a fun and creative way of involving parents in their children's learning. Research has shown that children learn Maths more effectively with the help of concrete materials and Maths-based games.
How will it work?
The class will be divided into small groups. One parent will work with a group, which will have a simple board-game, such as additional snap or snakes and ladders. The parent will be in charge of the same game for the six sessions and may take home the game beforehand to familiarize themselves with how it is played.
You do not need to be a Maths genius to get involved! The games we use are colourful, fun board-games, based on adding and subtracting.
This is a fantastic way to help your child to learn Maths and, while I understand how precious your time is, it won't work without parents' cooperation and commitment.
The "Maths for Fun" programme started with the Senior Infant classes in November 2018 . The programme ran for four weeks with the pupils playing fun maths games based on number and capacity. Thanks to our Senior Infant teachers and parents for helping to make this programme such a great success. In the past 1st and 2nd classes also participated in the programme.
St. Peter's National School, Phibsboro, Dublin 7 | Phone: 01 8680501
Registered Charity Number: 20117924